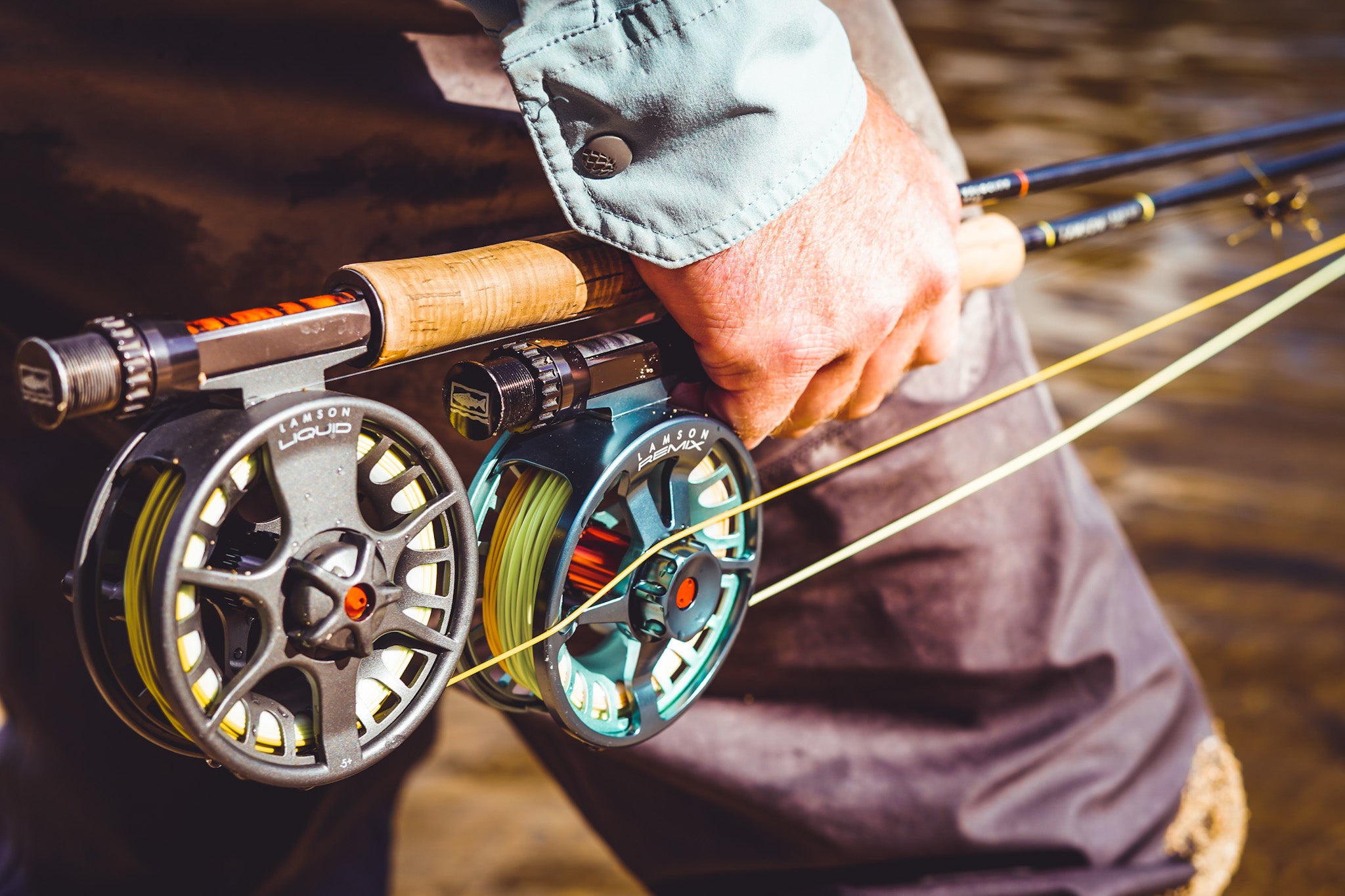 Liquid + Remix Winter closeouts
Liquid reels
starting at $99.99
Let customers speak for us
Best real reel deal you'll see
These are the best reels, at this price point, available. And they have been for as long as they've been making them. They have the same drag as the high-end Lamson reels, and they have the smoothest start-up and finest adjustability of all the mid-range reels. The conical drag is a superior design, end of story. I've got a half dozen plus of these three-packs, in many different sizes to hold the various lines I may use in a day. One thing that may be problematic for some would be that the case is bulky. I fish northerns from a boat mostly, so there is room for the spools. But some may not be so lucky lol. Anyhow, go get em!
Liquid 3-Pack Fly Fishing Reel & Spools
I am very familiar with the Lamson quality reels. Have 3 so far and just gifted one.
Liquid
Great reel
I love this reel! really smooth with a solid sound.
Liquid
Extra spool
Works as it is supposed to. Perfect fit.
Liquid / Remix Spool
Multi-reel case
Case works perfect for holding the reel and spools.
Multi Reel Case
Love 'em!
I own each of the Lamson reels, each a different weight! Love my 7wt. Speedster the most with my 5wt. Force coming in a close second! My Liquid will be my "stay in car" set-up!
Liquid
Guru S 5 wt. Great Reels! Just bought my second Guru S in 7 wt.
I retired last year and got back into flyfishing finally! I bought my first Guru S this year in the 5 wt. This was also my first Lamson reel I've owned. I've fished for panfish, smallmouth and largemouth bass with it. Biggest fish was a seven pound carp on a six pound tippet and the drag worked flawlessly. Just bought another Guru S in 7wt to use for largemouth while throwing large streamers and bugs and also for carp. Lamson will be my go to brand, great quality and designs.
Guru S
As always great workmanship from Lamson Reel company.👍
Neoprene Reel Case
Protection for your reels as you travel or drift
Neoprene Reel Case
Easy way to keep all reels and spools on one place when traveling
Multi Reel Case
Great color on a very good reel!
Speedster S - Select Color 2023
Couldn't be happier!
Medium new to the hobby and really just starting to appreciate different lines for different purposes and this set makes that really easy. I like to travel pretty light when we get out and swapping out spools is perfect for that.
The reel looks cool too, it doesn't matter that much but I like it when my toys look as cool as they perform. My local shop built me a rod a couple years back and put a remix on it that is gold and these grey or smoke spools both fit on it but the mixed colors also looks killer, killer enough that some other fisher commented.
Remix 3-Pack Fly Fishing Reel & Spools
Remix HD 9
This a great reel! Just like the other 13 Lamsons I own! This is my first HD version of the Remix, and I really like the full cage feature. The drag, as always, is superb. I am testing it on Chum Salmon this weekend!
Remix HD
Always top notch quailty!👌
Liquid 3-Pack Fly Fishing Reel & Spools
They hold up and get it done!
I have caught almost 2000 fish on my Lamson reels this year. The liquids have not failed once. They have the battle scars that show use and I love it!! Best reel for the money hands down. Looking at getting my 4th one!!
Liquid
Designed To Flow
Free-flowing design comes down to physics. At Lamson, we make fly gear that's fluid and dynamic. Making you a real force of nature.